Arnold J.J. Hagens, MSc
MSc. in International Business from the University of Leuven-Belgium and MSc. In Agricultural Economics from Wageningen University-The Netherlands. For more than eleven years he was Marketing Manager of a software company Jalasoft SRL and has been a research associate of South Group, working in collaboration with different countries in Europe and South America in health and development projects. He is a postgraduate lecturer in universities in Bolivia. His area of specialization is health and finance, marketing and IT programming for SMEs. All Articles of Arnold
Kathya Córdova-Pozo, PhD
PhD. in Economics from the University of Grenoble in France. Researcher at South Group in the area of economics – health and development since 2004 involved in different research projects working with multidisciplinary vision. In the last ten years she has been a guest researcher in several countries in Europe and South America and has been a guest lecturer at several universities in Bolivia. Her area of expertise is international health and economics. All articles of Kathya
Freddy Córdova Ossio, M.D.
Freddy Cordova is a Pediatrician and Public Health Doctor at the Universidad Mayor de San Simon (UMSS). Specialist in Pediatric Clinic and Public Health Hospital Pereira Russel Montevideo-Uruguay. He has been a professor for more than 30 years at the Faculty of Medicine of the UMSS. He is currently working at South Group as a researcher and doctor for the attention in mobile offices of the Cochabamba schools. All articles of Freddy
Matthew Glezos, MBA
A Canadian MBA with 2 years experience in marketing and strategy in Canada and Bolivia. A strong interest in technology as a hobby and combines that interest with his business background to provide technological articles with a business spin. His experience in social ventures leads him to strive for new and exciting ways to better the lives of Latin Americans. All articles of Matthew
Martijn Borst, BSc.
BSc. Finance & Control from the University of Arnhem in The Netherlands. For seven years he worked as a Corporate Accountant with international chemical and coatings corporation Akzo Nobel and banking corporation Fortis Group. He has also experience in Customer Service and is a volunteer at foundations in the field of welfare and development work. His area of expertise and interest is finance and politics. All articles of Martijn
Aldo I. Zeballos M., BSc.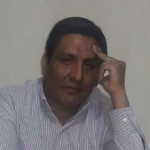 Clinical psychologist, member of the College of Psychologists of Cochabamba-Bolivia. He works as a psychologist at "Centro Terapéutico Hombres de Paz"; the Research Center for Health Studies and Services CIES and the Emergency Patient Care Service. He is also a guest lecturer in postgraduate courses and author of the "Psychological Care Guide from a Level II Hospital".